SIGN UP FOR GRU.Net INTERNET SERVICE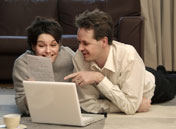 GET STARTED WITH GRU.NET TODAY!
GRU proves once again that we are More than Energy™ with the latest edition of GRU.Net. With faster, local traffic to link you to what's important in Gainesville and access to the entire World Wide Web, GRU.Net brings the Internet home to you. You'll never receive a busy signal, and you won't get disconnected for inactivity, so you can get local and national news, weather, TV listings, maps and all the information you need in one convenient location. Best of all, our local Help Desk is right here in town to answer your questions any day of the week.
Fast and Secure
Available 7 days a week from 7 AM to 11 PM