Outgoing Mail Is Slow
This is probably due to you sending a large attachment with your email. First, verify that the file size of your attachment is not excessively large. Many Internet Service Providers (ISPs) will block attachments over a particular file size. In general, e-mail attachments should not exceed 1.0MB in size. Larger file attachments will take longer to send, so you might want to compress the file using a zip program such as WinZip.
Some things you may wish to consider:
You can send the attachment in a compressed format, which will reduce the file size, thus taking less time to send.
If what you are sending is found on a Web page, you can send a link to the page instead of sending the entire file.
If you are sending a graphic image, you might want to send it in a format that is smaller in file size.
Some examples of file formats that are usually large: .PCX, .BMP, .PSP, .RAW
Some examples of smaller file size formats: .GIF, .JPEG, .JPG, .PNG
Forwarding Your GRU.net E-Mail To Another E-Mail Account
You can log onto NTMail and specify a forwarding e-mail address. NTMail enables you to manage your e-mail messages from the GRU.net Web page. By specifying a forwarding address, any mail sent to your GRU.net e-mail address will be forwarded to another address specified by you.
To log onto NTMail:
From the GRU.net Web page, click Your Account.
Click Change E-mail Password, Forwarding, etc.
Type your e-mail address and password, and then click EnterNTMail.

To forward your e-mail messages:
Click the Account button.
In the Account Information dialog box, click the Forward tab.
Type the e-mail address you want to send your GRU.net e-mail messages to, and then click Add.
To ensure that messages do not stay on the GRU.net mail server (and fill your allotted storage space), clear the Retail copy of received mail check box.
Click Update.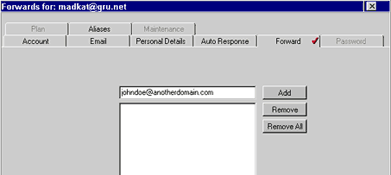 Note: After setting your GRU.Net e-mail address to forward to another e-mail account, you must log back into NTMail and remove the forward address if you wish to stop forwarding your e-mail messages.